TBOS: Blowing off plastic pellets from trucks
Problems with pellets & nurdles that remain on vehicles? Are you looking for a solution to blow off plastic pellets & nurdles from trucks? Then our Truck Blow-off station (TBOS) is the solution! Contact us now!
Operation Clean Sweep: Zero pellet loss
Operation Clean Sweep®(OCS) is an international programme designed to prevent the loss of plastic granules (pellets, nurdles, flakes and powders) during handling by the various entities in the plastics value chain and their release into the environment.
The campaign's goal is to help every plastic resin handling operation implement good housekeeping and pellet, flake, and powder containment practices to work towards achieving zero pellet, flake, and powder loss, protecting the environment and saving valuable resources.
One of the best practices mentioned by OCS is a blow-off installation to clean (silo) trucks carrying plastics resin. This cleaning station must make sure trucks leave the industrial site with no pellets stuck.
Truck blow-off station (TBOS) as a solution
As mentioned above, OCS lists a whole range of solutions - best practices - to combat pellet waste. One of the solutions is "a blow-off installation".
For the transport of microplastics, pellets, etc., companies often opt for tank trucks and containers. When trucks are filled with pellets, sometimes pellets are spilled and remain around the manholes, on top and sides of the trucks. Due to wind and weather they simply end up in nature, contaminating the environment.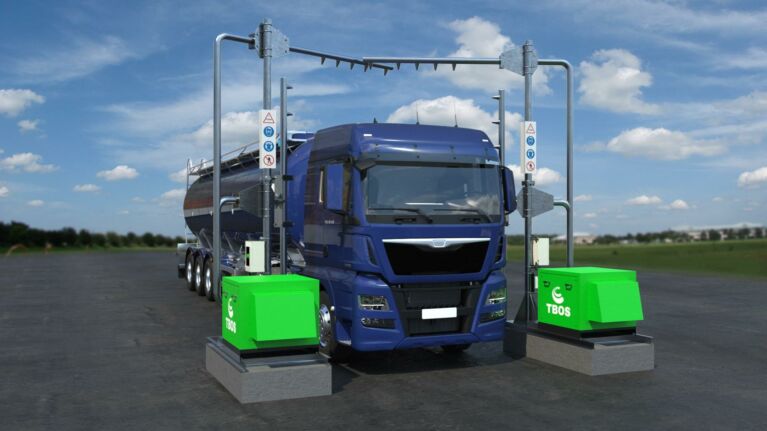 Our many years of experience taught us that systems based on traditional air knives are not performing well for this application.

We went in search of the ultimate blow-off installation to blow off vehicles and keep these pellets from nature. Together with SolvAir we developed the Truck blow-off station, TBOS for short.
Also a new super blower was developed to provide an efficient result with limited power. This solution is therefore also an energy-efficient and therefore very green solution.
Moreover, the 3-year warranty offers sufficient confidence to users.
With around 10 references at leading terminals, this system is now perhaps the most used system.
Download the information sheet
How does this blow-off station work?
A blow-off installation such as the TBOS (Truck blow-off station) offers the best suitable solution for pellet removal of those (tank) trucks. Our TBOS system blows off plastic pellets that have remained on the roof or chassis of the truck. It is a station where trucks simply drive through after loading the plastics pellets.
The station consists of a combination of carefully placed jets, a special designed powerful blower, a set of tubes / pipework, electrical cabinet, truck detecting module, traffic light indication, etc. The TBOS blow-off installation ensures that trucks leave the industrial site without pellets being stuck or lying on the truck.