TBOS: Blowing off plastic pellets from trucks
Operation Clean Sweep®(OCS) is an international programme designed to prevent the loss of plastic pellets (pellets, flakes and powders) and reduce environmental pollution. A recommended solution to combat that pellet wastage is a blow-off installation/blow-off station. This is why we developed the Truck-blow-off station, or TBOS for short. With the TBOS installation, we avoid plastic pellets being wasted and ending up in nature.
Truck blow-off station (TBOS) as a OCS solution
For the transport of microplastics, pellets, etc., companies often opt for tank trucks and containers. When trucks are filled with pellets, sometimes pellets are spilled and remain around the manholes, on top and sides of the trucks. Due to wind and weather they simply end up in nature, contaminating the environment. Together with our partner Solvair, we developed the Truck blow-off station, TBOS for short. When leaving the site, the trucks simply drive through the TBOS installation. The TBOS blow-off station blows the wasted pellets off your truck. It provides the suitable solution for getting those (tank) trucks pellet-free. The station consists of a combination of carefully placed nozzles, a powerful blower, a set of tubes/piping, automatic control, ... . The TBOS blow-off station ensures that trucks leave the industrial site without any pellets still stuck or on the truck.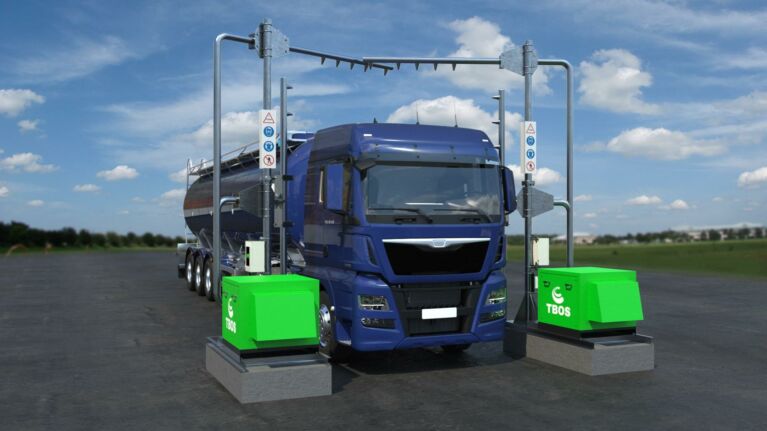 An energy-efficient blower was also developed to provide efficient results at high power. This solution is therefore energy-efficient and a very green solution. Moreover, the 3-year warranty provides users with sufficient confidence. With some 10 references at leading terminals, this system is now probably the most widely used system.

See the principle of the TBOS
Set up of a TBOS installation
The station consists of a combination of carefully placed nozzles, a powerful blower, a set of tubes/piping, electrical cabinet, ... . Our solution does not use our standard air knives but we chose for powerful blower nozzles. Through multiple tests, we have concluded that these nozzles are more efficient than a classic air knife.
If you want to centralise the blown-off pellets we can offer two solutions: A movable blow-off frame or a tunnel where the TBOS has it's place. Both systems also act as protection for your TBOS installation.
Read more about these solutions
Site management
Besides a TBOS installation and accompanying wall or tunnel, Rycobel is also your partner for the following:
Sieving in gullies: This simply involves installing a sieve in the drains so that grains do not enter the drainage water.
Loading system for silo-truck: This fill mouth for silo trucks reduces the number of wasted grains.
Grain separators in catch pits: This underground system captures all grains in collection pits.
Contact us for more information